Dress Kit
Dress Kit
$52.95
The Sure-Fit Designs™ Dress Kit
A comprehensive kit consisting of the necessary Master Patterns, Instruction Book, tools and templates, to sew an entire wardrobe of great-fitting, personalized clothes all structured to fit your individual body shape and size.  
How it works:
Your unique measurements are applied to the Sure-Fit Designs
™
Master Patterns. The resulting pattern accurately reflects your body shape and circumferences. Yes…personalized fit is definitely achievable putting confidence back into your sewing!
With only 11 measurements, achieve your personal body blueprint (your bodice & skirt sloper).  Then countless patterns including blouses, skirts, one and two-piece dresses, jackets and coats are all possible.  All well-fitting and fit just to you. Designing, sewing instructions, fashion tips and complete patterns are all available within the Dress Kit.
Dress Kit Contents
The Dress Kit Contents - What's in the kit?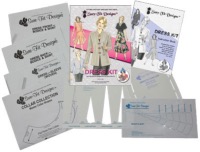 Master Pattern - Front Bodice & Skirt

Master Pattern - Back Bodice & Skirt

Master Pattern - Sleeves (both Woven & Knit)

Master Pattern - Collar Collection

Adjust-A-Bust template

Waist Darts template

Armscye template

Latest 6th Edition Dress Kit Instruction Book - 56 page - value in every page

 ***Kit envelope packaging may vary.
What can be sewn from this pattern kit?
Blouses, tops, skirts, any style of two-piece or one-piece dresses, and jackets or coats can be designed with this flexible fitting, sewing & designing kit.

  Here is a sampling of what can be sewn - get your free illustration download here.

Not included with just the Dress Kit?
- Designing Stylus (curved drawing tool).  
This essential tool is required to draw the patterns for all the kits and is offered separately to allow customers to buy the Kit only options where you already own a Stylus.  Tracing Vellum (paper) is also available separately.
When it says
'Dress Kit Only'
, it means exactly that.  You'd receive just the Dress Kit at regular retail price - no discounts. ($51.95)